Hire me
Interested in working with me? If you need a highly experienced, technical leader to help you build a product or team, get in touch.
I can help you:
My Contact Details
Why work with me?
I'm a software developer with decades of experience building things on the web. I've worked with large complex teams, and teams of one. I've solved problems for startups with low budgets and extremely fast cycles but also highly regulated, large, financial institutions.
I've been trusted to deliver products for companies like Blackberry (Mobile phones), Trade Me Ltd (Online Auctions and e-commerce), Cin7 (Inventory Management Software), IAG (Insurance), X15 Ventures (FinTech) and many more in industries like Pharmaceutical Automation, HR Software, Sport analytics, Credit card activation, Medical records processing and Internet of Things.
I'm constantly learning and I just love making software with others. We work in one of the best industries for impact, where any engineer can have an outsized influence on an organisation through high quality and thoughtful work.
I've spent the last 10 years building and running teams. I love to help people grow and learn as engineers and help people have fulfilling careers.
You can get more of an idea about my skills on my blog here.
My full resume is available on LinkedIn.
Deploy higher quality code more often
I'm a big believer in the power of automation to improve the quality of software and the lives of developers. The tools available now make it possible to deploy code to production many times a day with confidence.
I can work with you to implement the culture and tools to support deploying code safely on Friday! Even in a regulated industry. These practices are backed up with research from Google (DORA) and Microsoft (SPACE).
Example: I increased the throughput of a FinTech team of 8 engineers from 1 release every 2 months, to 3-4 releases per day. This resulted in 30% more tickets shipped per month with no increase in defects.
You can see the dramatic change in number of PRs deployed in the graph below.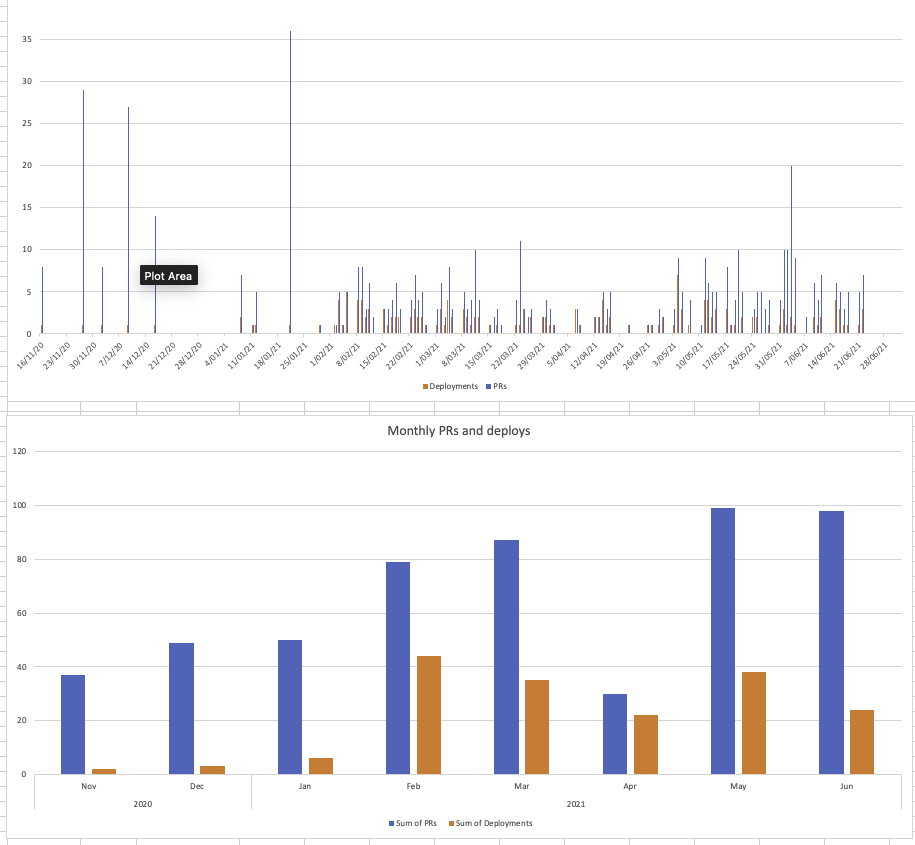 30% more tickets shipped, with no increase in defects
Upgrade your apps to the latest versions of Node, npm libraries or docker images
If you're running old versions of Node or Javascript I can help you upgrade to the latest versions and get you on a path to never having to worry about that again.
The security risks are real and the longer you leave it the harder it will be to upgrade.
Example: I successfully updated a project from Node 8 to Node 20, from JavaScript to TypeScript and updated docker images for a client.
This took 1 month and reduced the number of security vulnerabilities in NPM libraries from 183 to 0 and docker image vulnerabilities from 161 to 0.
Removed all docker image vulnerabilities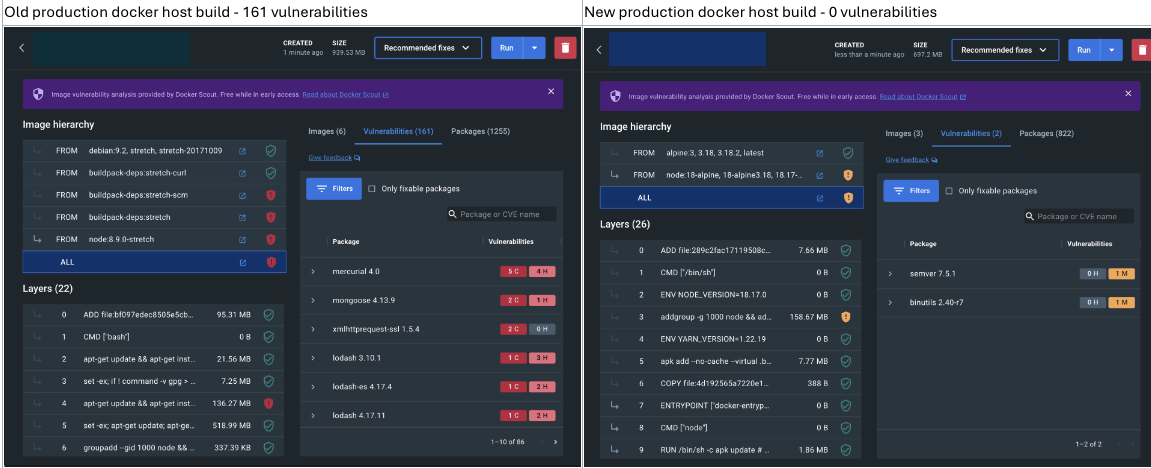 Finally, I introduced Renovate to the client's infrastructure to permanently automate all package updates for that application so they could keep their app secure automatically, while focusing on building new features.
If you're upgrading CRA to Vite, Jest to Vitest, Gatsby to NextJS. I can help you because I've done it all before.
My Contact Details
Converting Javascript to Typescript
If you're using Javascript with no static typechecking at all you're increasing the feedback loop for your developers and increasing the risk of defects in production.
I can do the tricky Typescript configurations, configure your editors, linting, CI/CD, and train your team on Typescript. I can convert your entire code base to typescript in one engagement, or I can configure JS and TS to live side-by-side so your engineers can upgrade each file to Typescript at their own pace.
I've worked with statically typed languages like Java, C# and typescript my entire career and have delivered 20+ projects in Typescript in that time.
NodeJS or NextJS Workshops
If you need to quickly get a team of developers building high quality production code with Node, NestJS or NextJS I can run a workshop for you. A workshop would typically take 2-3 days and would cover a broad range of practical topics.
I can tailor the workshop to your needs and your team's experience level if that makes more sense for your situation.
You can see the type of content I would cover over at my NodeJS app accelerator Miller Start.
Workshops can be run in person or remotely. A group of 5 - 8 developers is ideal.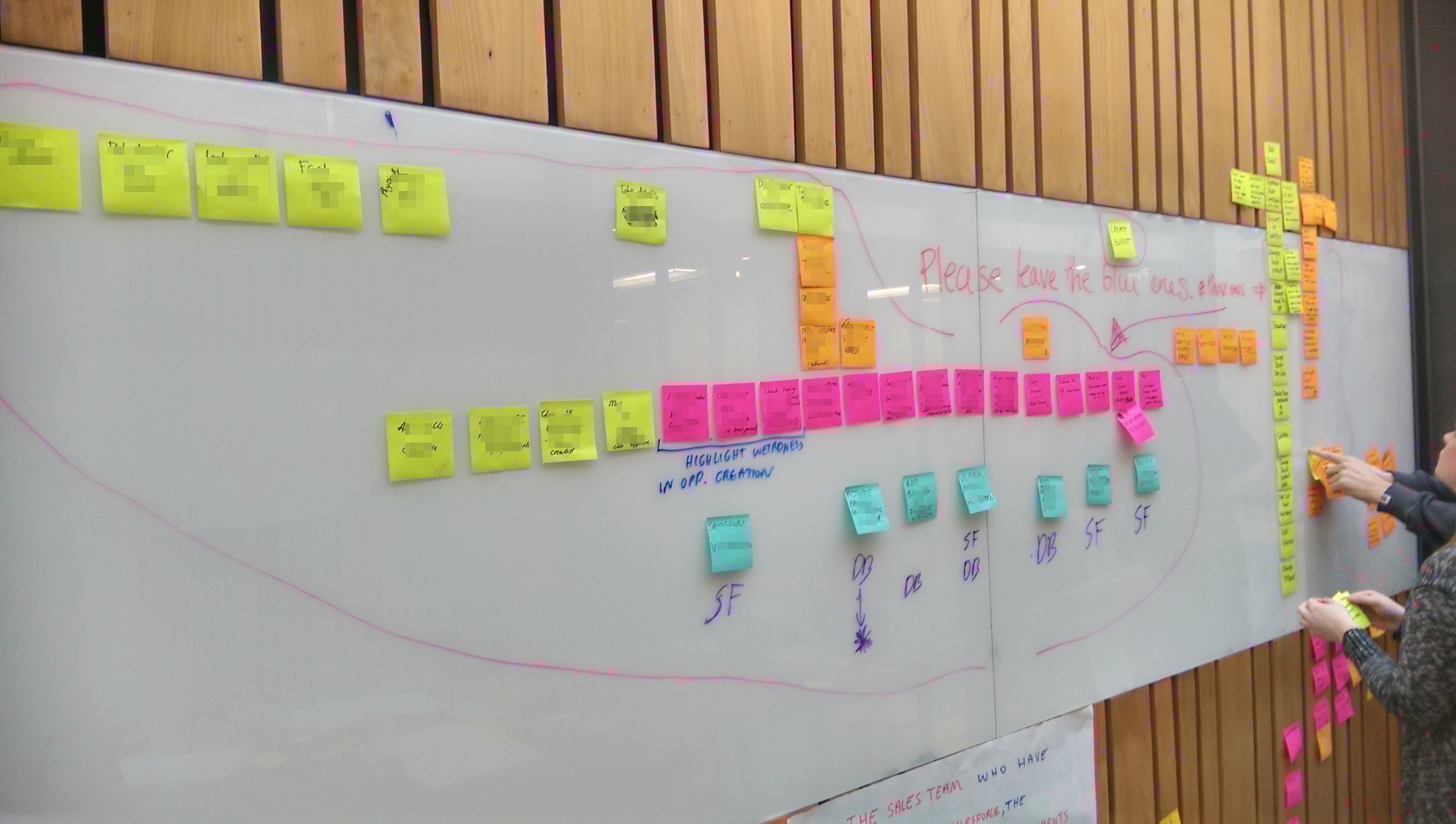 My Contact Details
Consulting & Team Augmentation
I have been a consultant for many years and I can quickly get up to speed with your technology, your business and your team. I love working with people and teams to solve business problems with software.
You can see some of the personal projects I've worked on over at my projects page.
If you need help with your cloud infrastructure, I've been working with cloud technologies for well over 10 years. I am an Azure Solution Architect Expert and I have extensive experience with AWS.
I worked in regulated industry like finance and insurance for some of the largest banks in Australia. I can help you with your compliance and security needs.
If you're using Node or Javascript I can improve the quality of any part of your codebase and build-in permanent automated processes to accelerate your entire dev team.